In this article I'd like to share a look at some of the original artworks I've been fortunate enough to gather for my collection, and the artists behind the creations.  It probably goes without saying that I'd be an even more prolific collector if price were no object and if it weren't for a fairly nomadic lifestyle over the last few years.  There truly is nothing like owning an original.  By extension, the inspired personalities who build the images lend an even deeper sense to the works as special artifacts.
Gerald Brom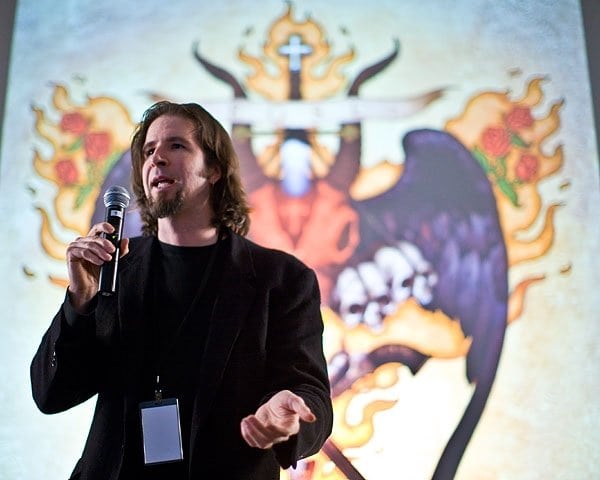 Brom's fantasy illustration was a canonical part of the landscape for me as a young 9 year old military brat ordering role-playing books and AD&D paraphernalia from TSR catalogs in the late 1980's.  Books from the Dragonlance series were some of my first novels to read; and at the time I couldn't soak them up enough.   The chimeras and wizards from those other worlds were no arbitrary inspiration for my own later development as a painter.  In fact my work is consistently informed by those archetypal seeds today.  I feel a particular connection to Brom also from the frame of having both been a military dependent.
His works and his career contribute to the evolution of fantasy illustration and storytelling.  Other popular franchises he's added to include movies such as Sleepy Hollow, Galaxy Quest, Van Helsing, and Time Machine, and video game franchises such as Doom, Diablo, and Hearthstone.  He is also an author of novels, including "The Child Thief" and "The Lost Gods".
Brom art in my collection: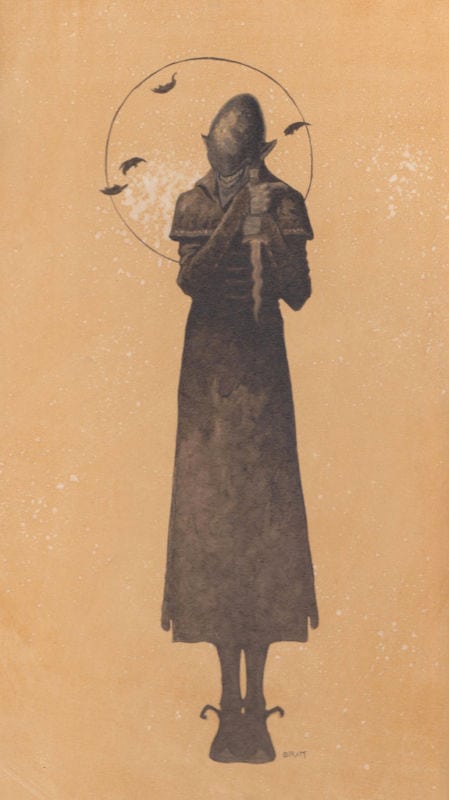 "The Grim", Acrylic on Board, 10″ x 16″, circa late 1990's.
You can check out more of Brom's amazing works HERE
Phillip Carver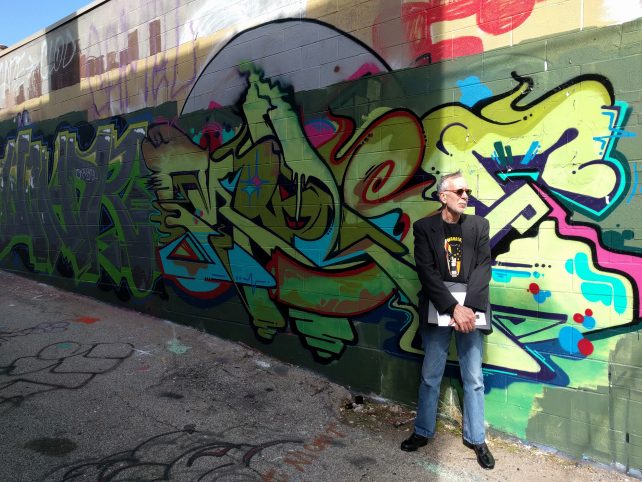 Phillip is a Midwest Fine Art Photographer with masterful acuity and a deeply disciplined artistic passion.  He authenticates his unique images by the integrity of his process from their conception through production.  His artworks inhabit a condition that is both fine craft and philosophy.  They are complete objects which are nonetheless psychologically unbound from their frames; speaking to existentialism, history, cubism, surrealism, and even mysticism.
It is important to understand that his images are all taken from original analogue captures, inverted in a traditional black room, and never cropped. Phillip bides his time with the patience of a sniper, waiting days sometimes, for that precise composition of light and shadow to come to play. It is as much a meditation for him as it is an active practice.
The presentation of his photographs are quite large and amazingly crisp with detail.  They engage the viewer whether from across the room or leaning in for a close up.  They exist as reflections of the viewer; as elegant modern decor or psychological windows.
Phillip Carver Art in collection: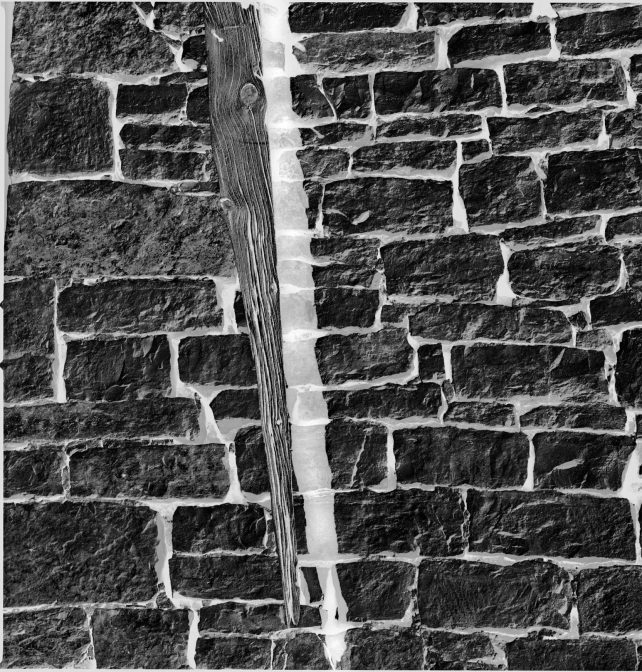 (Artist's Description) REFLECTION – Portfolio Number Three –  Greenwood County, Kansas.  Photograph taken 1999.  Reversed image.  Throughout the Flint Hills of eastern Kansas a number of old limestone structures still stand as memorials to the state's heritage, its people, and its past.  I was drawn to the texture of this walled surface, its uneven and shifting masonry lines.  The intersecting board with its weathered surface cast a reflective shadow.  Here I am referring to mental reflections created by time and memories.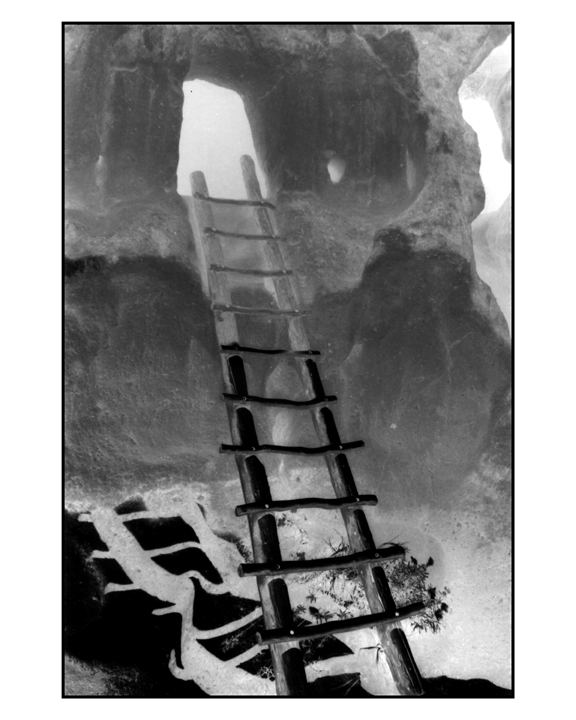 (Artist's Description) SPIRITUAL VORTEX – Portfolio Number Two – Occupied from the time following the Great Migration, 1300 to circa 1525.  Bandelier National Monument, New Mexico.  Photograph taken 1999.  Reversed image.  A vortex to those of European descent often means a whirlpool or perhaps a "black hole." To the ancient Pueblo peoples of the American Southwest, a vortex was a plateau of growth or times of personal change through which one might pass.  The horizontal tonal patterns represent these plateaus, while the rungs of the ladder represent steps in one's life needed to reach new levels of awareness.  The reversed image gives the impression of being inside looking out and upward toward spiritual enlightenment.  The surreal shadow cast by the ladder is balanced by the form in the upper right hand corner.
You can find out more about Phillip Carver on Behance or his Facebook Fan Site.
Maitree Siriboon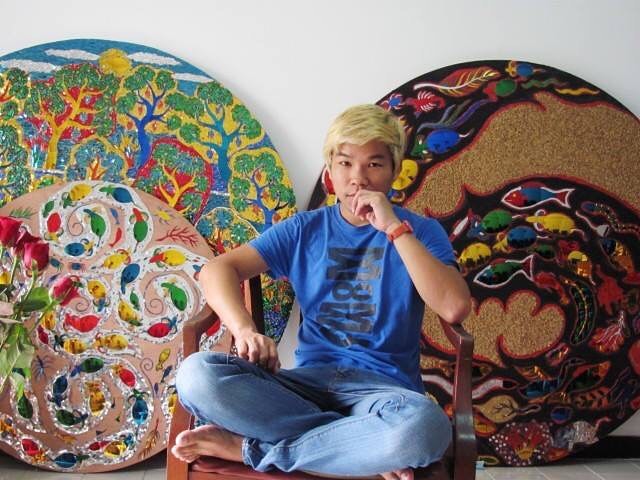 Maitree Siriboon is a contemporary Thai artist straddling the space between western concept art and traditional Thai symbolism.  Hailing originally as a young teen from an Isan village in Ubonratchatanee province of Thailand, he attended school at Silpakorn University, well respected for its Fine Arts program.  In addition to receiving his Bachelors of Fine Art, Maitree went on to win a variety of awards, and find feature in dozens of publications, including Elle Magazine, Esquire Magazine, MTV Thailand, and more.  Additionally his work has been represented for sale in reputed venues like Christie's Hong Kong.
Maitree's artistic initiatives span a wide range of media and purpose.  Early works of his were often monumentally large artworks on wood surfaces; multimedia mosaics of paint and colorful reflective mirrored pieces.  The use of mirrored technique is a direct reflection, so to speak, of the traditional way in which many Thai temples are laden.  In Maitree's early works, however, the images depicted a cosmology from his childhood; rice fields and workers, dogs and cats, water buffaloes and snakes, birds and frogs, and the "Isarn Boy" in his early form–a verdant reflective consciousness within the scene.
In the photo below is an image of me from 2007 standing against one of these images.  You can readily see how the work literally stands from floor to ceiling: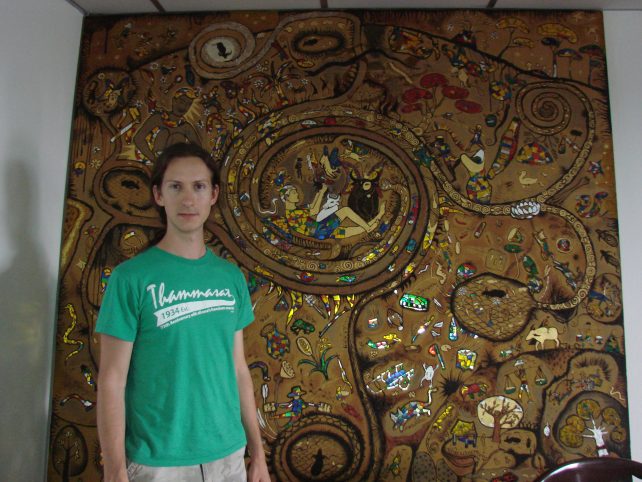 Subsequent works Maitree depicted in contemporary photography;  ironic juxtapositions of well dressed westerners in his childhood village, or the artist as a sensual figure modeling with a giant water buffalo amid a bed of straw.
The Buffalo is a consistent archetype in Maitree's work, as a revered, mystical, and highly valued entity.  In 2015 he launched a "Save Thai Buffalo" series, which paid tribute to the creature for its contribution to the evolution of Thai people, and served also as a reminder to not forsake the animal.  In the show real buffaloes were painted as famous western artworks, using natural Indian body pigments.
Currently, Maitree has been offering an artist residency, for interested artists to stay in his home village, to reflect, participate, and work away from the urbanization of Thailand–to get a feel for an essential aspect of Thai culture.
It seems, in the scope of his career, Maitree has come full circle, having intially gone out to the frontier and beyond of his Thai identity, bringing back artifacts through his artworks.  Through his residency, he now offers to foreigners the chance to bring back to their world an artifact of experience and inspiration from the real Thailand.
Work in Collection: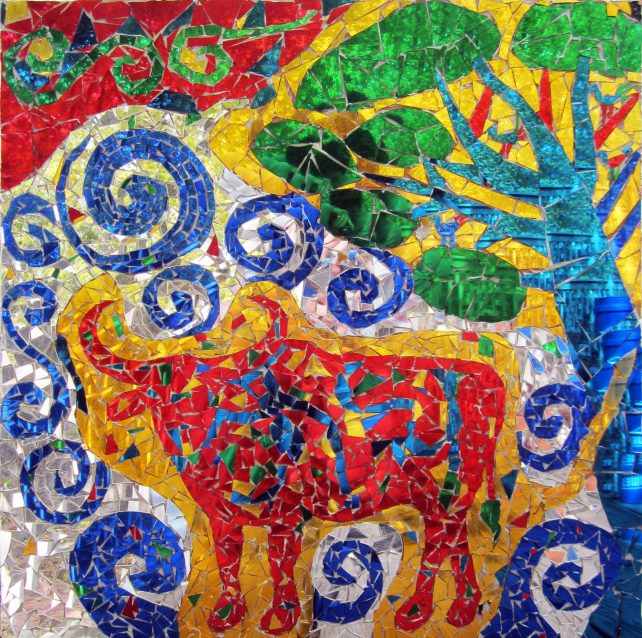 "The Red Buffalo", Mirror Collage on Wood, 50 cm x 50 cm, 2007
More information and current information can be found on Maitree's Facebook Artist Page.
Chet Zar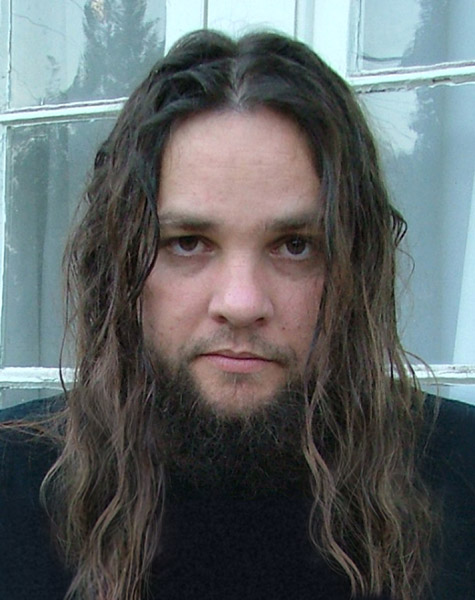 Chet is one of the most recognized and respected "dark" artists emerging strongly in the new millenium and a then booming "low brow" and pop surrealist movement.  His work and career weaves together both fine art oil paintings and concept art/effects in film.  He has contributed to movies such as The Ring, Planet of the Apes, Darkman, and Hellboy.
Simply put, Chet likes to paint monsters.  What makes his creatures unique is that they have a human underbelly.
In 2011 I was fortunate to be able to meet Chet at his studio with my partner Aaron, to see works in progress but also to view some older favorites, such as "Chronic Anxiety", which he was gracious enough to include in our group snapshot below: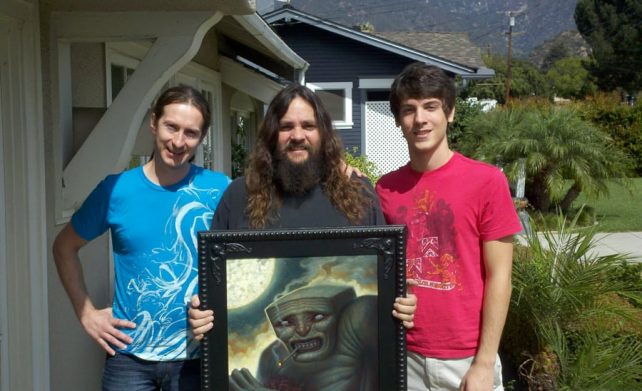 I am a particular fan of works of his circa 2006 to 2012.  The delicacy of how he thinly layered paint in oils–as an homage and respect given through his process to the old masters–definitely makes his addition to my collection quite satisfying.
Chet's painting in collection: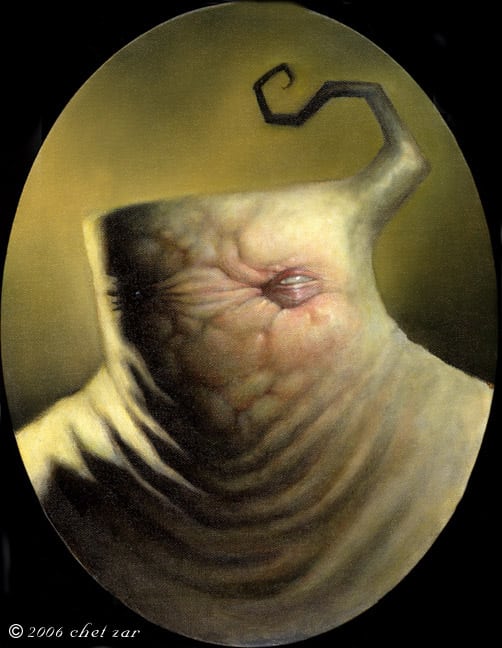 "Interloper 2", Oil Paint on Canvas, 11″ x 14″, 2006
You can see more of Chet's beautiful monsters on his Website.
Lindy Lorenson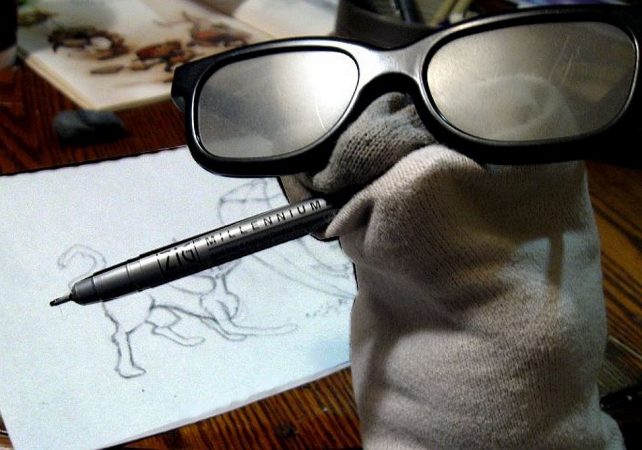 Lindy is a Kansas artist experienced in commercial illustration, with a long and diverse portfolio of ink fine art pieces in addition to paintings, both oil and acrylic.  His drawings pull no punches, delving into a psychological landscape from the same neighborhood as Felix the Cat by Robert Crumb or perhaps the skeletons of Looney Tunes' closet.  Yet at the same time, Lorenson's work is influenced often by artists such as Norman Rockwell, Boris Vallejo, and other similar masters of their craft.
To illustrate the contrast between these influences, we can examine this untitled oil painting he produced, circa 2000-2005: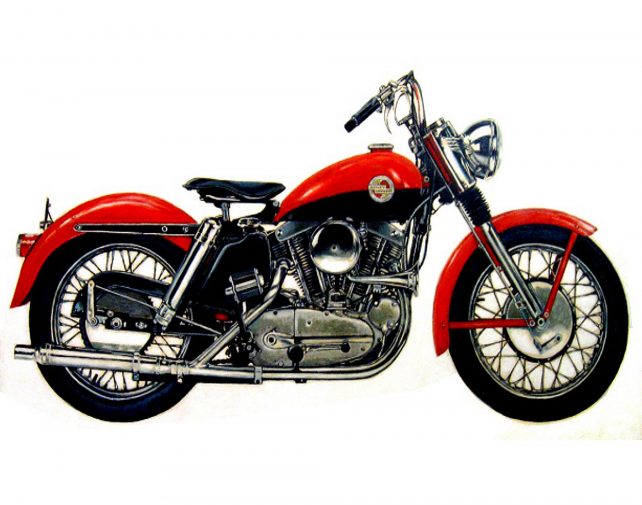 with a surrealist ink drawing like "Sno Cone":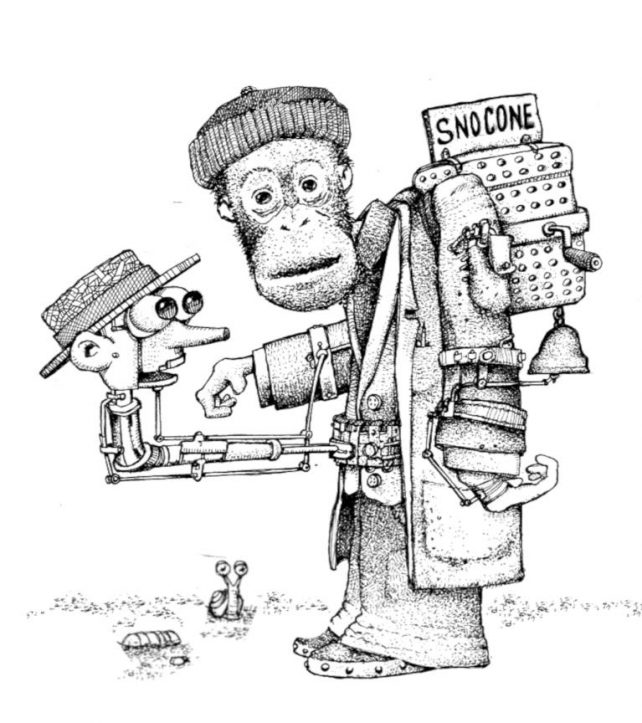 Los Angeles and Hollywood were Lindy's stomping grounds in a time before the internet became popular and and when Heavy Metal Magazine was at its height.  He fell into the same circles as playmates and celebrity Penthouse Pets, like the model and B-movie actress Julie Strain, as seen below: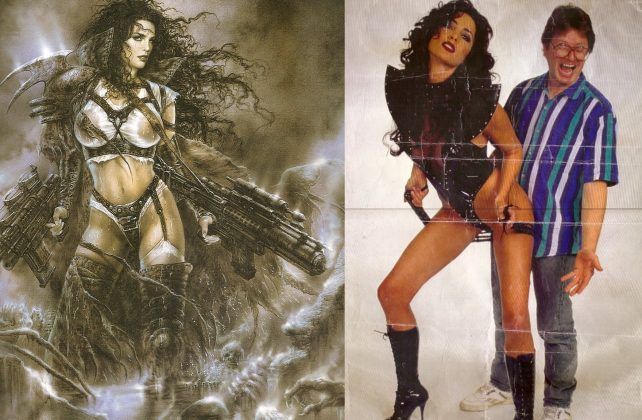 A life long smoker, Lindy's drawings, paintings, and illustrations represent an equally present fixation.  His art is a characteristic of his nature like breathing.  His incessant creativity often fails to leave room for titling works, in fact, as they are more like gestures or thoughts materialized as a commentary of the modern media cycle.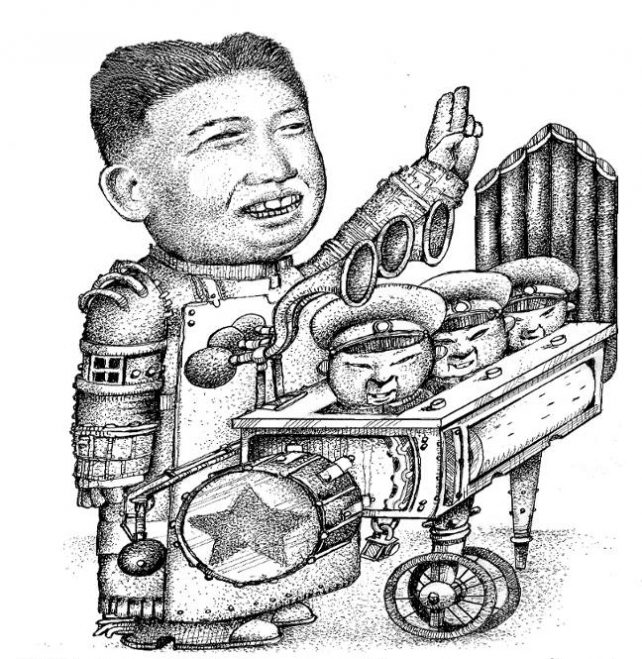 Untitled Portrait of Kim Jong Un
Taken in sum, Lindy's work is an archaeological dig of a perspective of a man living in modern America, through the Vietnam War, the commercial boom of the 80's, and the emerging news obsession post 9-11.
Work in collection: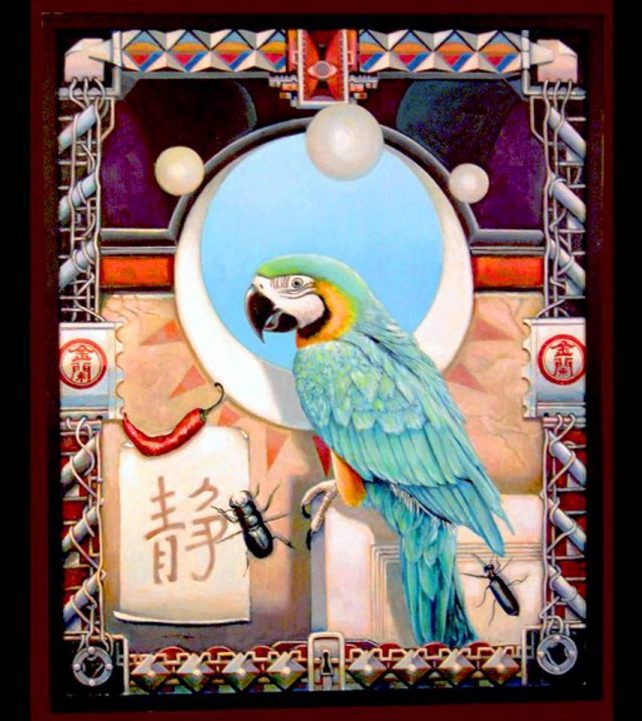 "Wasabi", Acrylic and Oil on Canvas, 18″ x 24″, circa 2006
Fernando Chamarelli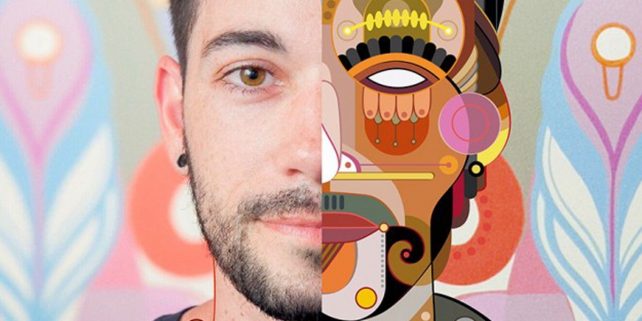 I first became aware of Fernando as an artist while he was still a part of the Threyda collective, circa 2010.  He is a Brazilian artist with a degree in Graphic Design from the Universidade Estadual Paulista.  He has since become very successful as an artist exhibiting worldwide at galleries like Thinkspace in L.A., Vertical Gallery in Chicago and Kallenbach Gallery in Amsterdam.  His art has been featured commercially by companies such as Absolut Vodka, Nike, and Microsoft.
Chamarelli's paintings are a synthesis of geometric graphic design applications, cultural mythos, symbolism, and mysticism.  Linear and organic, they behave like modern Hieroglyphs.
Work in Collections: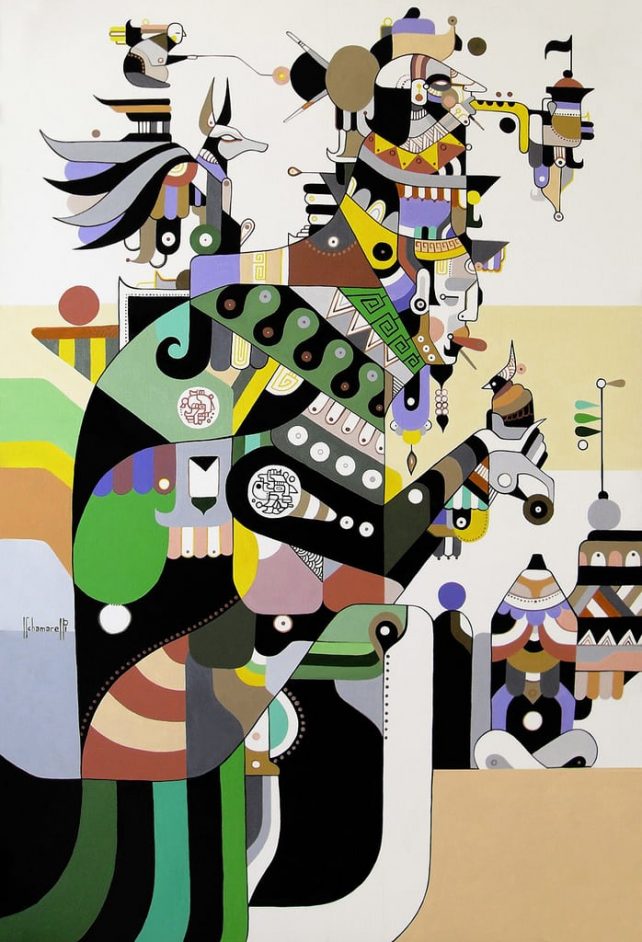 "Flauta de Paxiuba", Acrylic on Canvas, 60 cm x 90 cm, 2009
"Flauta de Paxiúba" is based on a legend. Fernando translated the story for me:
"The legend is about a boy Indian named Milomaqui, who lived in the tribe Kamaiurá. He sang so beautifully that all in the village stopped working to listen to his songs. When the cacique knew what was happening, he was furious. He ordered the arrest of the little Indian and forbade him from singing. If he disobeyed, the cacique would order to, 'Take out his shadow'.
Later Milomaqui was released, and soon after his release the young Indian escaped to the forest. He found a beautiful girl there and sang to her, and without explaining anything to the Indian girl he slept. Milomaqui was eventually captured by the cacique who served the promise to take out his shadow and buried it in a place with soft earth where there rose a slender tree, the paxiúba. With this tree the Indians make the flutes that only may sound to men: they say that the songs of Milomaqui survives within them."
To find more information about Fernando, you can visit his Website.