History
Cody Seekins grew up as a nomadic U.S. military brat inspired by the cover art of fantasy novels and RPG's. His early influences included also many of the classical masters of Europe, while living in Italy and Germany. As a young adult, Seekins discovered a psychedelic process, which he expressed through traditional media as a style of visual surrealism. He further realized his practice while obtaining an MFA in Fine Art Painting from the Academy of Art University.
Seekins has been actively exhibiting worldwide since 2010. His bibliography includes print features by Schön! Magazine, The Encyclopedia of Infernal Delights, and A capella Zoo; and media recognition by Juxtapoz, Hi-Fructose, and Beautiful Bizarre Magazines.
A genuine enthusiast of the crypto art space since 2020, Seekins' works have been featured broadly across prominent and emerging NFT and Metaverse platforms, including SuperRare, MakersPlace, KnownOrigin, <imnotArt>, and more.  Notably, he is a Genesis Artist for the Artvatars project, and his work is also included in the MOCA (Museum of Crypto Art) Permanent Genesis Collection. 
Within his studio practice, Seekins has begun to integrate both digital and analogue techniques, producing uniquely curated audio-visual experiences on the blockchain, in addition to his physical oil paintings.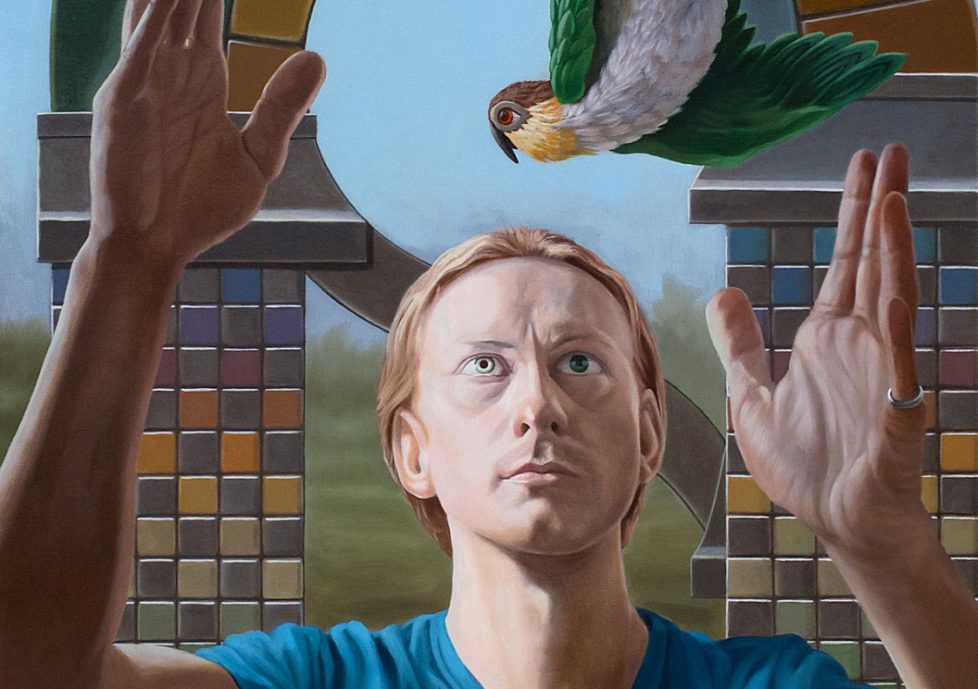 Statement
As an individual and artist, I've always held a reflective nature. Because the primacy of awareness in my life produced an affinity for Buddhist philosophy, I refer to some of my works as "Jātaka Tales" or simply "Jātakas", after the historical 3rd person Jātaka narratives of Gautama Buddha prior to his enlightenment. The term "Budgie-Sattva" within my oeuvre is an appropriation combining the word budgie (parrot) with "bodhisattva", or one who is still on the path toward perfect awareness.
The traditional Jātaka tales are a collection of Buddhist allegories which detail the subjective journey toward enlightenment by illustrating the evolution of a protagonist. That evolution manifests as incarnations of personal identity, experience, and learning; a framework allowing me to build a body of paintings pulling from my exterior and interior life. Traditional Jātaka tales describe multiple past lives of the Gautama Buddha, where each identity is a separate incarnation. In my works, these multiple incarnations of self are sourced from the transformations within one life. In effect, I am narrating contemporary Jātaka tales from a 1st person perspective.