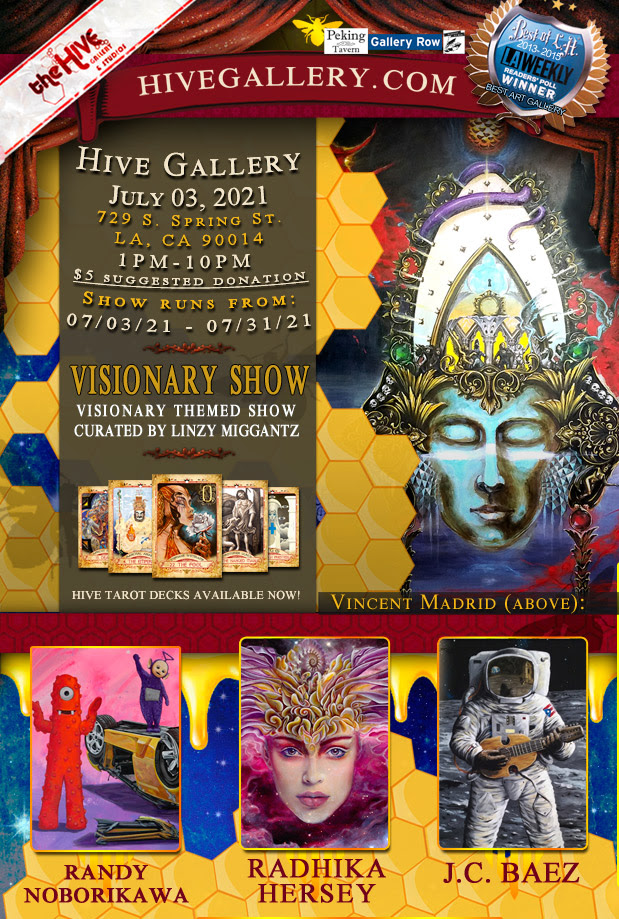 I am participating this month in the Hive's latest visionary art exhibit. See more info below:
—
The Hive Gallery and Studios welcomes you to a special annual show filled with Visionary Artworks from around the world.
—
Curated by Linzy Miggantz & The Hive
—
HOW DO I SCHEDULE TO SEE THE SHOW?
This event will be all day from 1pm-10pm and we will be scheduling appointments, 20 guests per hour in our 3000 square foot Hive, to see and hear the visual honey!
—
To schedule your visit, we ask that you email us as soon as possible to choose the hour you and your guests would like to see the show.
—
Please note that we will check all RSVP's
from oldest to newest on Friday (day before the show). We will do our best to give you your time slot of choice.
Once 20 people fill up a slot, you will need to pick the next nearest hour time slot.
You and your guest's names will be on the list at the door when you arrive and you will have an hour for your Hive experience.
—
TO SCHEDULE YOUR VISIT PLEASE EMAIL: [email protected]
—
Please note we are now open for regular gallery hours Wednesday to Saturday 1-6pm
—
Additionally, Artwalk will be starting back up on Thursday the 8th
(no appointment needed for regular gallery hours or artwalk)
$5 suggested donation on opening night
*Your donations are much appreciated and help keep the Hive and it's events Alive!
10% off drinks and food at Peking Tavern night of the opening July 3rd