Cody is happy to be participating as part of the "Best of the Hive" exhibit during the Hive Gallery's 14th Year Anniversary Show this April, 2019.
Seekins' original oil painting, "Alex in Wonderland" will make its exhibition debut in L.A.
Cody will join a host of other artists, both veteran and new to the Hive, for a celebration of both the emerging spring season and yet another year of success for this iconic gallery in Southern California.  Congratulations  Hive Gallery, for another inspired year, and for many more to come!
Complete details below: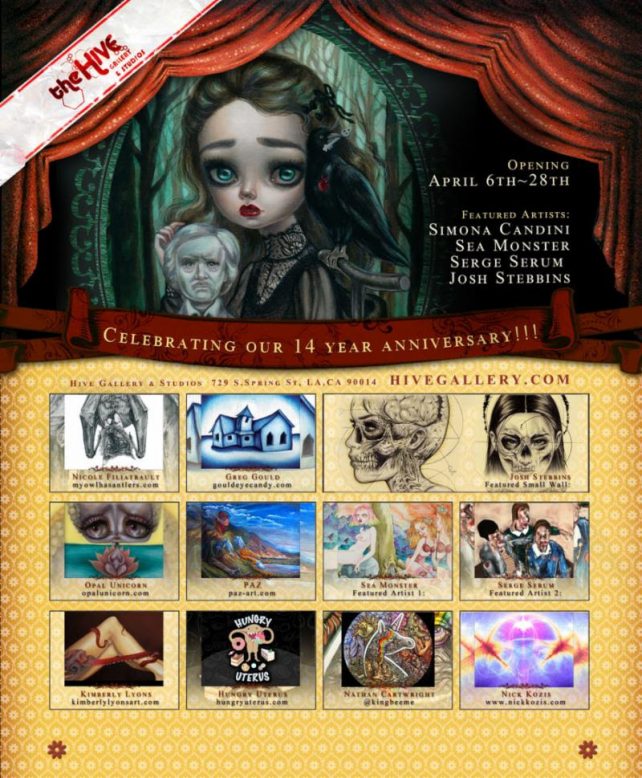 The Hive Gallery is Proud to Present Our:
14 YEAR ANNIVERSARY SHOW!
OPENING: April 6th, 8-11pm
SHOW RUNS: April 6th-28th
$5 suggested donation on opening night (Donations help keep the Hive Alive)
10% off drinks at Peking Tavern night of the opening (see front Hive
attendant)
HIVE TAROT X will be available and on sale for the first time at this opening event!
$20 at the opening, $25 normal price
Featured Artist 1: Seamonster
Featured Artist 2: Serge Serum
Featured Tall Wall: Simona Candini
Featured Small Wall: Josh Stebbins
Special Kingbee Installation:
El Mescalito
Nathan Cartwright
Michael Allen
14 Year Anniversary show:
BEST OF THE HIVE (come see new work by past featured artists of the Hive Gallery)
Chad Knapik / Katya Tal / Renee Tay / Michael Koehler / Adrian Romo / Cody Seekins / Calla Donofrio / Chandra Cerchione-Peltier / Tamara Tolkien /
Javier Soto / Bd Miller / Jimi Martinez / Jeremy Cross / Robert Orozco / Sayuka Bloodstone / Joey Stupor / Micah Ofstedahl / Gregory Rodriguez /
Cory Johnson / Stephanie Weitekamp / Jef Logan / Joe Holliday / Sunny Jin / Dennis Larkins / Alan Kocharian / Ellen Schinderman / Orion / Maribel Navarro /
Anthony Ausgang / Stephen Chiodo / Lizz Lopez / Taylor Hammond / Tamara Page / Mary Delioussina / Anthony Stewart / JT Steiny /
Melany Meza-Dierks / Jeffrey Seydel / Weijia Kang / Hope Doe / Nathan Cartwright / Ave Rose / AJ Catalano / Robert Edwin / Amanda Huynh / Johnny Cubert White / Art Van D'lay /
Sandra Yagi / Jimi Martinez / Adam McCarthy / Sean Ghobad / Rachel Silva / Jose Bican / Quyen Dinh / LoWail / Chinacat 663 / Angel Villanueva /
Mary Ancilla Martinez / Lauren Jensen / Auberi Zwickel / Zachary Friedberg / Sunol Golden / Laurel Gerber / Wendy Gadzuk / Steffi Balick / Alex Quintero /
Cody Jiminez / Erin Garey / Sawyer Hurwitz / Carin Hazmat / Keisuke Yoneyama / Arlou Somo / Meesha Goldberg / Gary Christian / Segan Friend / Sydtropolis /
Melissa Ebbe / Emma Rose Laughlin / Tom Baxa / Amanda Huynh / Wellington Rawls / Panteha Abareshi / Katya Tal / Jian Lee / Teodor Dumitrescu / Michael Rababy /
Sma Litszinger / Adrian Romo / Ann Lim / Joe Kowalczyk / Tamara Tolkin / Sydtropolis / Eric Fabbro /Jamie P /
"HONEY" Themed Show (New artists to the Hive create works inspired by the sweetest of things, Honey):
Pookie
Tabitha Lahr
Ruben Chavez
Yesenia Lopez
Danielle Spires
Paloma Montoya
Caitlin Goss
Adriana Garcia
Craig Snodgrass
Gilen Bousquet
Erin Reynolds
Curious Art Glass
Gabriella Accarino
Ryan Harris
Lina Garcia
Brandon Noriesta
Marco Rached
Caitlin Goss
Mark Ravelo
Christopher Umana
Dani Manning
Filthy the Bear
Starkee Suave
Logan Walden
ReMac
Nataly Menjivar
Marissa Lamour
Danielle Lange
Meleny Pichardo
Matthew Hamby
Brady Willmott
Caitlin Fowler
Zlat Konchikov
Brandon Noriesta
Noir Oracle
FAMILY REUNION (Past Hive Resident artists exhibit new work):
Amanda Sage
Sheila Mia Seifi
Stephan Canthal
Jinx
Dania Strong
Jennifer Main
Paul Torres
Radhika Hersey
Saori Mitome
Eza Barbosa
Naoshi
Alex Schaefer
Tooter
Astrolab
Greg Gould
Dania Strong
Christie Shinn
Douglas Alvarez
Tslil Tsemet
Tooter
Grace Kim
Merilyn Hernandez
Ken Dougherty
Jennifer Korsen
Tslil Tsemet
Dulce Brassea
Dulcinea Circelli
Richie the Barber
Kindred Gottlieb
LIVE TAROT CARD READING
LIVE Sewing By: Saori Mitome
TUNES SPUN BY:
The One and Only Super Bee! http://www.starskeesuave.com/DJ/bee.html
+
Big Epoch
Featured Resident Artists:
Alexis Michael / Ariel Oki / Astrolab / Arlou Somo / Chris Hixon /
Christopher Olson / Daisuke Okamoto / Gian Flores Norte / Greg Gould /
Jennifer Korsen / Linzy Miggantz / Louie Metz / Opal Unicorn / Opened
Jesus / Lady Beaver / Marcel DeJure / Nicole Filiatrault / Patrick Haemmerlein /
Robyn Alatorre / Xian Pitt / Starskee Eleganza Suave / Racecar 13/ Sandy
Shimooka / Taku Ichinose / Teod Tomlinson / Vakseen
Resident Artists:
Abbybelle / Alex Ramos / Alexandria Sandlin / Charles Osawa / Christie
Shinn / David Reyes / Doug Meyer / Eddie Xu / Emrys Wright / Siobhan
Radke / Hana Joo / Brandon Duyan / Lisa Orrantia /
Jinx Art / J.Salvador /Keith Wong / Kimberly McCaskey (Hungry Uterus)
/ Mark Beachum / Mike Street / Nathan Cartwright / PAZ / Preston
Thomas / Roxanne Zidell / Sam Salerni / Siobhan Radke /
Ursula Harris / Sol Luongo / Superpao / Tiffany Van Hulle /Yanis Zambeis /
HIVELAND INSTALLATION BY:
Christopher Ulrich / Nathan Cartwright / Michael Allen / Bill McEvoy /
GMONIK / TEWSR / Stephen Holman / Stephanie Weitekamp / Arlou Somo /
Steven Lopez / Jorge Macswiney ( Macsorro )