"Many of the best pieces and ideas are born out of tragedy. A botched work could turn out to be a work of genius."
Ohio native turned Los Angeles artist, curator and owner of the Hive Gallery, Nathan Cartwright is a man of many top hats. With parents encouraging a "let me be me" attitude. this monster-obsessed lad attended a liberal arts college and studied everything from per-veterinary science to art and graphic design, hoping to become an art therapist. Cartwright's Hive provides a workspace studio, performance/music outlet, and activities center to the many artists he houses, while his art delves into the hidden mental and artistic authenticity of humankind.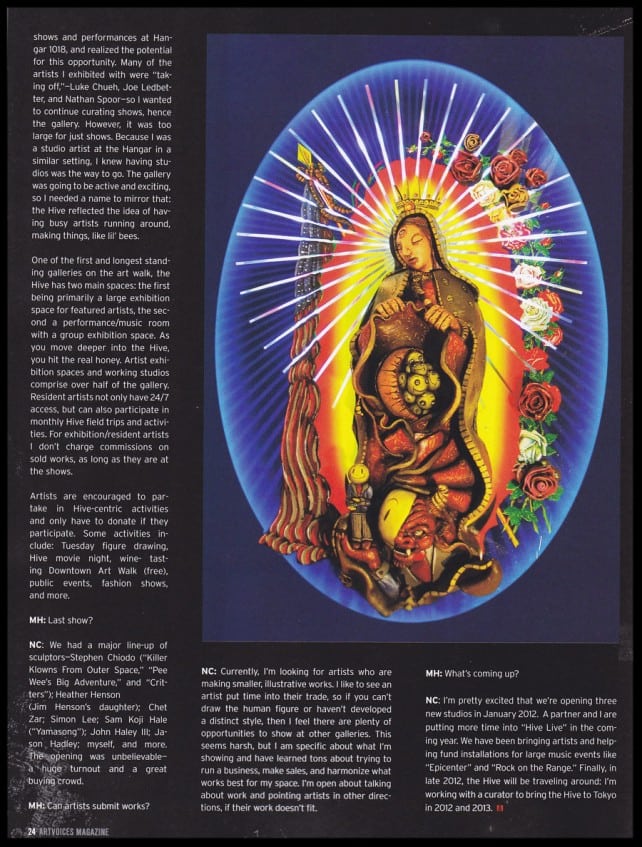 Michael C. Hsiung: Describe your works, themes and influences.
Nathan Cartwright: I created multidimensional and interactive paintings designed for all, using sculpture, lights, sounds, and paints. My visually applied melees consist of classic images, interactive-sculptural rooms, cartoony monsters, and epic battles. My unchecked palette and imagery allows viewers to let their guard down and approach from a place of innocence.
My work is a personal mythology about the importance of living an authentic life, keeping and open mind, and having fun as a creator. I have been incorporating "happy face" characters into my mythology. These characters known as "The Man", are symbolically mankind in a sleep state. Like an emoticon, they are devoid of core truth. They represent mankind existing in an unawakened, inauthentic state; and my works tell their stories and experiences- from being eaten by large deities, warring against beasts, to wreaking havoc upon the earth. Occasionally characters experience a "waking up" to their true selves: taking off their masks, or their pre-conceived and media-created ideas of themselves. To express the temporary state of all things, I depict eastern and western deities destroying "The Man" whose sole purpose is to gain money, power, and then die. Different levels of "The Man" are symbolized by different states of awareness: A happy face with business outfit equals sleep; farmer's outfit equals slowly waking up; cowboy equals waking up and becoming a hero; and a maskless character equals being awakened and engaged in the creative life.
MH: Art school, good or bad?
NC: I had a great teacher, Crossan Curry, at Miami University. I came in very tight and illustrative, but he encouraged me to get dirty with my mediums- chalk, charcoal, and gesso. my work got ugly and unformed – a great thing. I went through a de-programming at school. The doors opened and reforming my anatomical and illustrative style with a "sky's the limit" vantage point.
MH: Advice for aspiring artists?
NC: Stay open with their ideas of who they are and where they are going with their work. Many of the best pieces and ideas are born out of tragedy. A botched work could turn out to be a work of genius. As for the business side, I'm a realist. Work an easy and slightly creative job that doesn't drain your drive to come home and create. It will ground you and teach you valuable lessons.
MH: How did the Hive start?
NC: Bert Green, founder of the art walk told me of a space on Gallery Row. In early 2000, I had been curating large group shows and performances at Hangar 1018, and realized the potential for this opportunity. Many of the artists I exhibited with were "taking off" – Luke Chueh, Joe Ledbetter, and Nathan Spoor- so I wanted to continue curating shows, hence the gallery. However, it was too large for just shows. Because I was a studio artist at the Hangar in a similiar setting, I knew having studios was the way to go. The gallery was going to be active and exciting so I needed a name to mirror that: The Hive refelected the idea of having busy artists running around, making things, like lil' bees.
One of the first and longest standing galleries on the art walk, the Hive has two main spaces: the first being primarily a large exhibition space for featured artists, the second a performance/music room with a group exhibition space. As you move deeper into the Hive, you hit the real honey. Artist exhibition space and working studios comprise over half the gallery. Resident artists not only have 24/7 access, but can also participate in monthly Hive field trips and activities. For exhibition/resident artists i don't charge commissions on sold works as long as they are at shows.
Artists are encouraged to partake in Hive-centric activities and only have to donate if they participate. Some activities include: Tuesday figure drawing, Hive movie night, wine-tasting, Downtown Art Walk (free), public events, fashion shows, and more.
MH: Last show?
NC: We had a major line-up of sculptors, Stephen Chiodo ("Killer Clowns from Outer Space," "Pee-Wee's Big Adventure," and "Critters"); Heather Henson (Jim Henson's daughter); Chet Zar; Simon Lee; Sam Koji Hale ("Yamasong"); John Hadley lll; Jason Hadley; myself and more. The opening was unbelieveable- a huge turnout and a great buying crowd.
MH: Can artists submit works?
NC: Currently, I'm looking for artists who are making smaller, illustrative works. I'd like to see an artist put time into their trade, so if you can't draw the human figure or haven't developed a distinct style then i feel there are plenty of opportunities to show at other galleries. This seems harsh, but I am specific about what I'm showing and have learned tons about trying to run a business,l make sales, and harmonize what works best for my space. I'm open about talking about work and pointing artists in other directions, if their work doesn't fit.
MH: What's coming up?
NC: I'm pretty excited that we're opening three new studios in January 2012. A partner and I are putting more time into "Hive Live" in the coming year. We have been bringing artists and helping fund installations for large music events like "Epicenter" and "Rock on the Range". Finally, in late 2012, the Hive will be traveling around: I'm working with a curator to bring the Hive to Tokyo in 2012 and 2013.
www.artwrightstudio.com (Art of Nathan Cartwright)
www.hivegallery.com
www.artvoicesmagazine.com