With his recent participation in the Hive Gallery and Studio's Comic Book Super Villains Show, curated by Trek Lewis, which opened over the July 4th holiday weekend, Aaron Bolton further cements himself as a talented and evolving fine artist. His exhibited painting of Sabretooth, inspired by the X-Men comics, pulls dynamically from a myriad of fine art, illustrative, and graphic design orientations.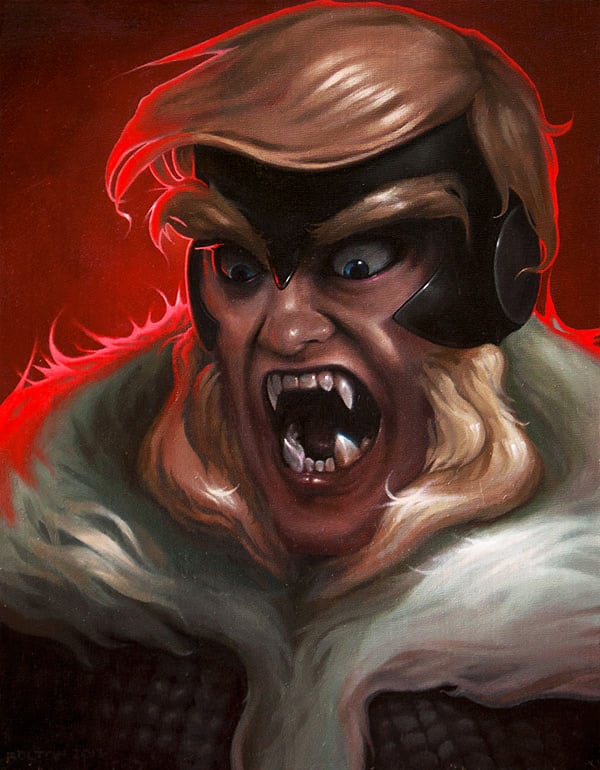 Aaron combines classic representational interests and pop cultural iconography with this painting; essentially bringing into palpable life the typically vector-driven pen and ink archetype.  The character emerges from a very dark palette to culminate to an illuminated apex at the sharp focal points of  voracious teeth and predatorial gaze.  The result, though not the usual subject matter of Aaron's past works, manages to keep to the quality and personality which defines his more psychologically invested images.  Moreover, we see an expansion into animated expressions which differs from the hypnotic gaze of his other portraits.
And yet this portrait is a clear sibling of his painting, "The Scapegoat", both in the dedicated handling of paint and the emergence of high values from an inherently dark palette.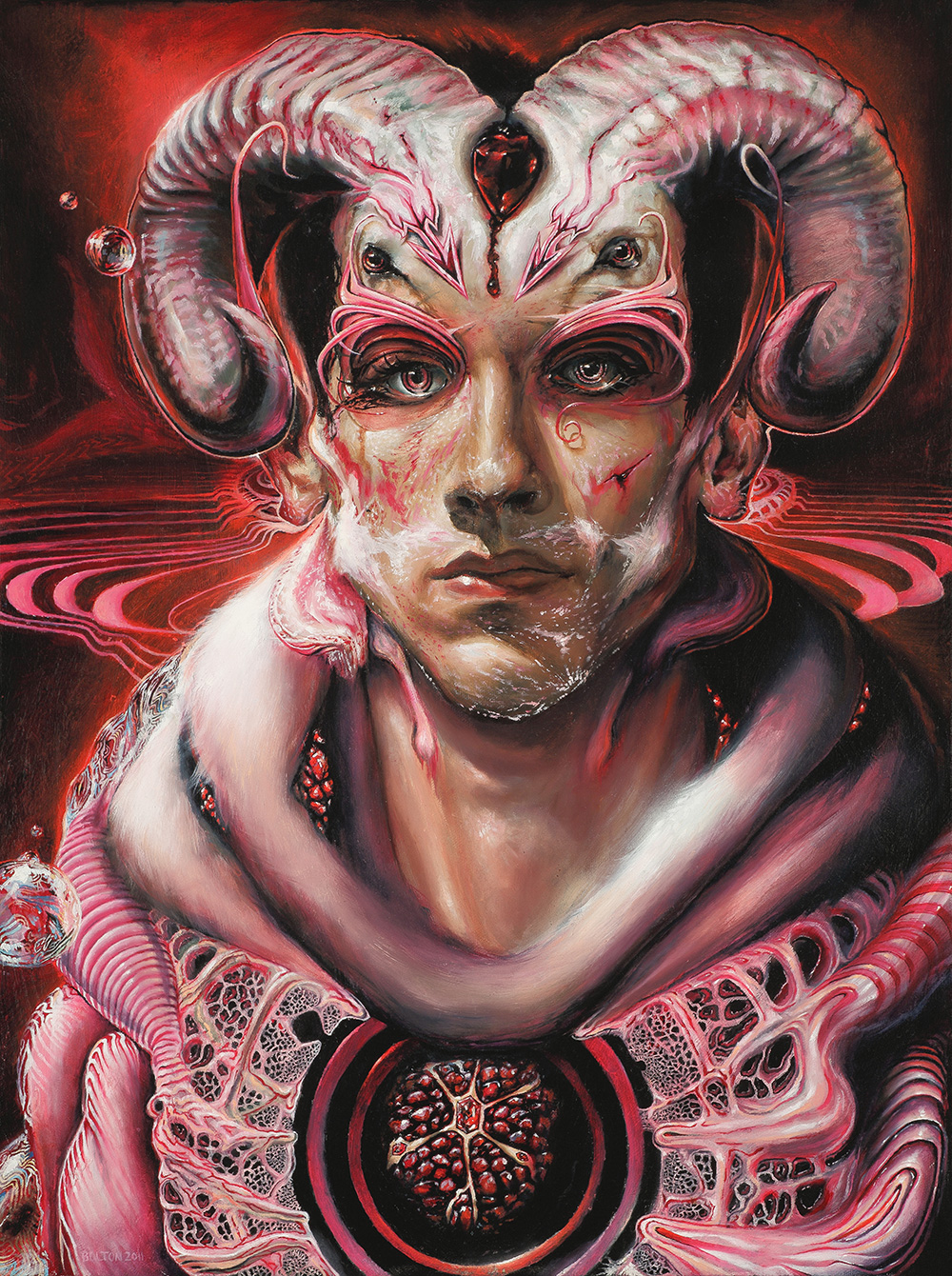 Aaron sifts influence from such artists as Michael Hussar through sentiments of light and darkness as well as sensual and often delicious tactile moments within his compositions.  Though a young artist, the trend of his development suggests the emergence of a most exquisite portrait painter.
Portraits, however, are not the extent of his experiments, which include sometimes wholly imaginative, psychedelic imagery–namely his work "The Peak" which exemplifies the fresh, naked, hyper lucidity of an entheogenic experience.  A professional graphic and web artist by trade, Aaron also explores compositions and subjects which speak to sensuality and design, such as his oil painting, "Ice Cream Mandala" which synthesizes conceptions both of embodied pleasures and eastern symbolism.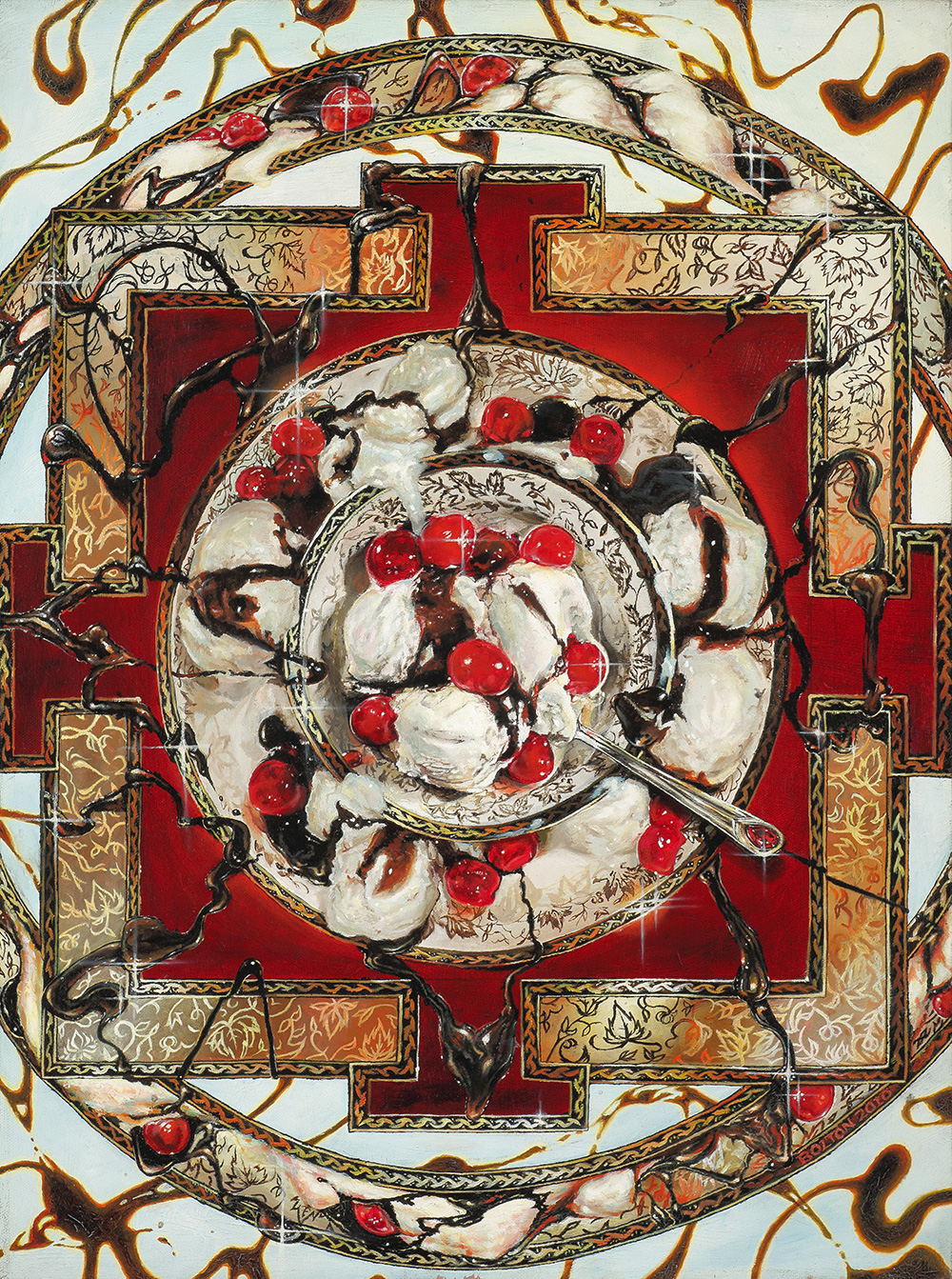 For those interested in knowing more about this serious, passionate artist, visit Aaron's website.  If you are in or near Los Angeles be sure to drop by the Hive's Comic Villain themed show which includes some other interesting takes on popular comic archetypes in addition to Aaron's standout piece.