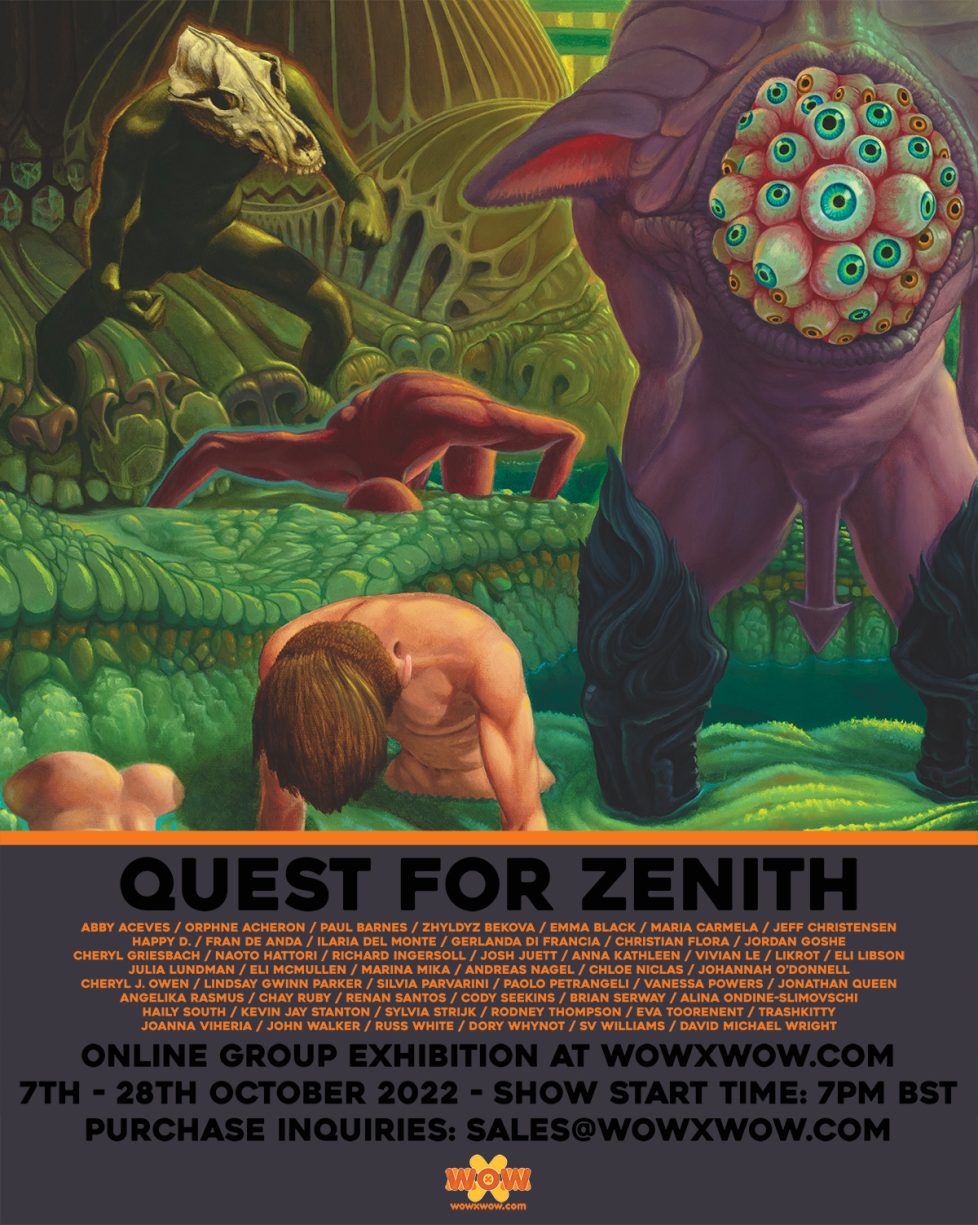 I'm excited to announce that my work, The Shepherd, will debut as part of WOW x WOW's October show, Quest for Zenith.
​"WOW x WOW is a UK based, progressive online gallery and art resource specializing in exhibiting, promoting and celebrating the very best New Contemporary Art from around the world.
WOW x WOW was founded in the summer of 2014 by Scottish artist Tim Maclean, whose intention from the outset, has been to shine a light on artists producing work that boldly blurs the boundaries between the disciplines of fine art, illustration, graphic design, street art, etc. As WOW x WOW's sole curator, Tim actively seeks to work with and promote those artists who place a strong emphasis on narrative, who invest time and effort into evolving a unique aesthetic, who strive to develop and incorporate an elevated level of technical skill and whose imagery often contains a distinctively surreal slant."
Participating Artists:
Abby Aceves | Orphne Acheron | Paul Barnes | Emma Black | Zhyldyz Bekova | Nicola Caredda | Maria Carmela | Jeff Christensen | Happy D. | Ilaria Del Monte | Gerlanda di Francia | Naoto Hattori | Alex Hovey | Richard Ingersoll | Anna Kathleen | Vivian Le | Likrot | Julia Lundman | Malojo | Colete Martin | Eli McMullen | Nicolas Menay | Juan Ramon Meza | Marina Mika | Maldha Mohamed | Andreas Nagel | Chloe Niclas | Johannah O'Donnell | Cheryl Owen | Lindsay Parker | Silvia Pavarini | Paolo Petrangeli | Vanessa Powers | Angelika Rasmus | Chay Ruby | Renan Santos | Danny Schwartz | Cody Seekins | Brian Serway | Alina-Ondine Slimovschi | Andi Soto | Haily South | Kevin Jay Stanton | Rodney Thompson | Thoth | Eva Toorenent | Trashkitty | Alexis Trice | Joanna Viheria | Joe Vollan | John Walker | Dory Whynot | SV Williams | David Michael Wright
The exhibit is online only. To find out more about the Gallery, and see the full show, visit Wow X Wow.